Standard Ellis Island Tour
Group Tours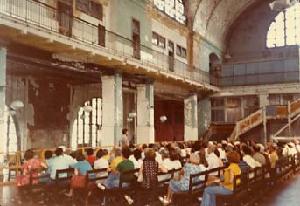 If you are coming with a group and wish to schedule a tour, please contact me! I offer group tours seven days a week. If your group is large, I would be happy to break the group into smaller groups and give back-to-back tours. I would also be happy to advise you on additional activities at Ellis, transportation, and food options. Part of the service I provide is to advise you as to how to make your event at Ellis the most rewarding possible. For Groups Tours, please contact Tom directly at 212-229-0202 or email him at ellisbook@aol.com

Tours for individuals are offered.
Private tours can be arranged by calling Tom Bernardin directly at 212-229-0202 or via email at ellisbook@aol.com .

What Is Not Included in group or individual tours?
The cost of the ferry ticket, lunch, and additional purchases are not included in the price of the tour, so please bring additional cash or a credit card. Ferry tickets are $12 for adults (13-61), $5 for children (4-12), and $10 for seniors (62 and over).


Tom Bernardin
Post Office Box 1267
Old Chelsea Station
New York, NY 10113
(212)229-0202
Email: ellisbook@aol.com